Health Practitioner Profile
Zinnia Su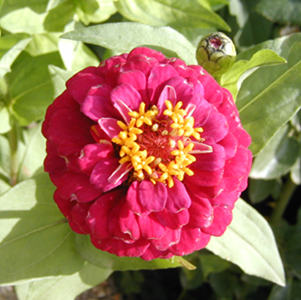 ​Tell us about your occupation.
I am a Licensed Massage Therapist and Certified Craniosacral Therapist. I do both in-person, hands-on work and remote work.
Why did you choose to go into your particular field of medicine/healthcare?
I was on the path to become an allopathic physician but while I was in medical school, I discovered that I wanted to know more and to approach healthcare from a more holistic and integrated perspective than what western/allopathic medicine was offering, especially at that time. Growing up, I was active with dance and sports and I was always the one people would ask to walk on their backs or give them shoulder rubs. At the same time that I was stepping away from medical school, I was still very active with competitive rowing and in working on my teammates, I rediscovered my aptitude for helping people through touch. Massage therapy gives me the opportunity to apply my knowledge of anatomy, physiology and kinesiology with physical & energetic sensitivity and intuition.
Where were you born?
I was made in Taiwan! :) My mom was pregnant with me when my parents immigrated to the U.S. and I was born in Utah while they were in grad school.
Where have you been?
I've lived all over the U.S., including: Northern California (Bay Area); Southern California (Los Angeles and San Diego); NYC; Vail, CO. I've also lived in (or moved back to) Seattle, WA five times now.

I've road-tripped in the U.S. up & down the west coast and through the southwest as well cross-country a few times and I've been to both Alaska and Hawai'i. I've also been to Paris & London and spent a couple weeks in Spain (mostly Barcelona with a road trip through Valencia to Granada). The furthest I've ever traveled was to Reunion Island.
Medical style you grew up with?
My parents took us to western/allopathic doctors. I only remember a few things that didn't really go along with what the doctors prescribed: Tiger Balm was used a lot in our household; my mom would give us a Chinese herbal cough syrup when we had coughs (I rediscovered this as an adult & now I always keep a supply of it at home); my dad liked to give us cod liver oil (if/when he could get us to take it). I didn't know to look for or even wonder about other types of medicine or approaches to healthcare until I was in medical school and I was not really exposed to osteopathy, naturopathy, homeopathy, chiropractic, TCM, acupuncture, herbal remedies, flower essences, and so on, until I was in massage school.
Your views on health in your own home?
My partner and I do our best to nourish our bodies, minds, and spirits - by eating as well as we can, by staying physically active, by doing things that we love, by living in a way that engages our full being and cultivates balance & joy. It's a constant challenge & an endless learning process!
What is the most difficult aspect of your work for you to accept?
I wish that insurance companies were not the arbiters of healthcare here in the U.S. I firmly believe that not only is equal access to healthcare a universal right, but also each individual has the right to choose the kind of healthcare they want to receive and which providers they want to see. Access to healthcare of our choosing should not be restricted by arbitrary 'networks' or standardized definitions of 'medical necessity' because none of us are 'standard' and no definition is universally applicable.
What are you most proud of/grateful for about your work?
I am profoundly grateful for the time I get to spend with each client while they are on my table. It is such a privilege to be able to offer the time and space for someone to be quiet and in their body, listening to it with intention.
What is your go-to home-remedy for a cold?
My partner makes an amazing cold remedy, a hot-water based drink in which the ingredients vary slightly but usually consists of some variation on the following: one tea bag of Traditional Medicinals Gypsy Cold Care, one tea bag of organic green tea, local honey, cayenne powder, echinacea (tincture or one tea bag), ginger (freshly grated is best otherwise one tea bag), one finely chopped clove of fresh garlic, lemon juice or apple cider vinegar, sometimes a packet of Emergen-C, possibly a dash of whiskey, all of it infused with reiki or other healing energy (the intention to heal is key).
What is the best advice you've ever received?
Early on in my career as a massage therapist, one of my teachers told me that the best way to support & care for others is to be as full as possible in myself (in my own body/mind/heart/energetic field). It is so true! And something that still requires constant work and awareness.
If you could stay home with a cup of coffee three days a week and research any area of health that pertains to your occupation, what would it be and why?
I've been wanting to learn more about flower essences. They seem to work in a very gentle yet deeply effective way and I think they would integrate with bodywork quite well.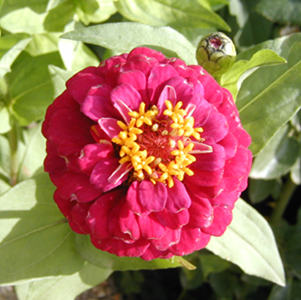 Zinnia Su
Massage Therapist
Seattle, WA United States
---
"Out beyond ideas of wrongdoing and rightdoing, there is a field. I'll meet you there.When the soul lies down in that grass,the world is too full to talk about.Ideas, language, even the phrase 'each other'doesn't make any sense."
—Rumi
VISIT WEBSITE
---
Zinnia's Specialties
craniosacral, neuromuscular technique, deep tissue, myofascial & neurofascial release, injury evaluation & treatment, intraoral work, swedish massage, sports massage, pregnancy massage, reiki
---
Zinnia's Top 3 Topics of interest
flower essences
aromatherapy
homeopathy
Kinnected is working to reduce isolation amongst health professionals. Connect and share with your peers for engagement and support. Bring new resources to the table and ignite new ideas!
Search for Another Practitioner