Meet the Team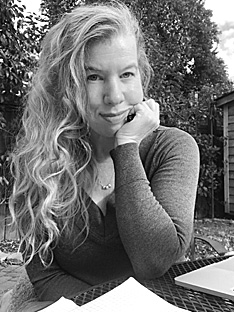 Megan Haas comes from a family of explorers and innovators whose ideas and actions have shaped her own. Growing up, she was immersed in several global communities with strong social, cultural, and creative values, and as a result has modeled her life and work around developing healthy community culture and learning from it.
At age fourteen, as a serious gymnast, Megan was diagnosed with sudden onset scoliosis. A seven-pound, fourteen-inch, stainless steel rod was attached to her spine, allowing her to grow and develop healthily. The intention and inquiry that drives Megan as a person and in business reflects a similar theme: How do we harness the firm, unyielding, and solid part of something with strength, flexibility, and an intuitive, gentle intelligence?
In the last 25 years, Megan has spent time developing original companies that allow creative relationship-building to collaborate with high standards in business.
Megan's motivation to develop an original, free, global health community and social sanctuary has taken shape over the past 15 years. Kinnected was developed to fill the need for a humane digital culture where people and health professionals can establish new and healthy narratives, recognize what it means to flourish, and to learn to authentically connect and collaborate with each other.
Megan is committed to building purposeful technology with transparent practices, in the spirit of trust and social excellence.
Melissa Dickinson
Creative Director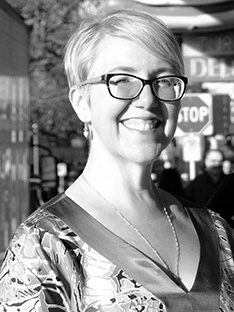 Melissa has worked in the graphic design and user experience field for 27 years. She has strong roots in print and environmental design, but for the last 20 years, most of her creative work has focused on interactive design.
Since 1992, she and her wife have owned and operated a boutique consulting company providing outsourced IT, branding, and communications services for countless small, medium, and large businesses. This has given her the opportunity to design unique complex visual and interactive solutions. Some of these include: a series of learning kiosks and websites for the Port Townsend Marine Science Center, a personalized interactive Diabetes Advisor app developed for GlaxoSmithKline, a membership-based video and discussion support group site for the parents of transgender kids, a remote learning system for Columbia Presbyterian Hospital, as well as numerous mobile and desktop websites and apps. She is particularly invested in designing systems of communication for non-profits and socially-conscious small business owners.
Melissa's lifeime of experience with migraines and chronic back pain gives her a sense of urgency when it comes to Kinnected. She offers what she's learned to others, in the hopes that they may find it helpful.
When not managing a housing co-op in Seattle or spending time with her family, Melissa loves reading about history, writing, hiking in the woods, spending time with animals of all kinds, and making remix music videos.
Madhu Singh
General Counsel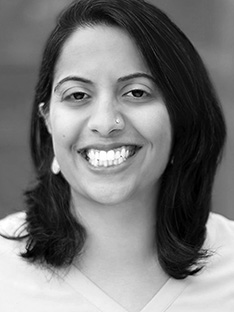 Madhu SinghMadhu is in her element working side by side with CEOs and businesses crafting legal solutions that fit the needs, vision and values of today's growing companies. She is particularly interested in the emerging intersections of technology, new media and business law and enjoys helping companies navigate the front lines of these fast-developing areas.
Madhu holds a number of community positions that allow her to share her knowledge and passion with others. Madhu is Adjunct Faculty Lead at the Community Development and Entrepreneurship Clinic at Seattle University School of Business and School of Law and President of the Women's Business Exchange.
Seeking to make a positive impact in our community, Madhu also spends her time speaking at CLEs for attorneys, advising at micro-enterprise clinics, providing pro-bono services for nonprofits, serving on nonprofit boards and hosting free seminars for local businesses on business topics including contracts, intellectual property and social media.
When she's not busy working, teaching, blogging and networking, Madhu is a mother of two and enjoys time with her family and makes time to enjoy the diverse sights, sounds and tastes the Seattle area has to offer.
Dwayne Linde
QA and Testing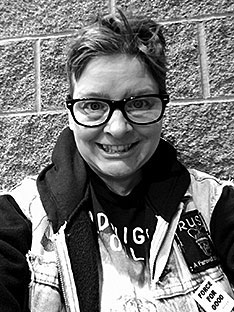 Dwayne first got started in his Engineering career as a young child when he discovered—to his parents' consternation—that the family telephone is great fun to take apart. That grew into a love of all things hardware and software, especially from the aspect of finding where the all problems lie.
Currently, Dwayne has 20 years of software and hardware QA/test engineering experience, and has tested everything from children's television software to pharmaceutical dispensing machinery for various companies around the Puget Sound area. He also has a Certificate in Web Development from Seattle Central College, where he graduated with High Honors. He finds that that programming knowledge has made him a much better tester—he can both look at the UI, and read the code behind the site, to find all the problems possible.
As the Senior Software QA Tester, his goal is to find the issues and bugs before the customer does, as well as ensuring that the customer has a smooth and pleasant experience using the site. His interest in working with a medical/wellness community site comes from developing the rare hereditary disease Spastic Paraparesis in adulthood.
When not finding all the bugs, Dwayne is a massive foodie—he loves to cook, eat, read about, and discover the foods of various cuisines. Currently, he is on a massive homemade ramen kick! He also loves hiking—despite the forearm crutches, going to concerts, playing the trumpet badly, and is an amateur radio operator, with the callsign N7YYZ.
Evelyn Dickinson
Technical Director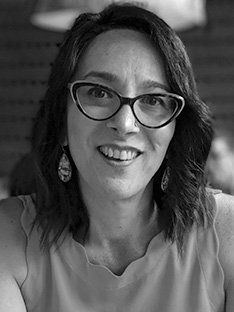 Evelyn began working with computers at an early age. While enrolled in the University of South Florida's computer engineering program, she was a campus representative for Commodore Computers U.S.A.
Evelyn founded The Logical Alternative in 1992 and began her career as a consultant, network engineer, and developer. Areas of expertise include the Microsoft .NET and Linux LAMP development environments, high availability secure network design, business process analysis, and ERP systems.
As the former Chief Information Officer of billion-dollar retailer Lazydays RV, she also has considerable experience in professional IT project management.
Recent projects include development of a build-your-own Avatar viral social media project for Microsoft for the Rio 2016 Olympic games, a dealership inventory management system for the automotive industry, unique web-based presentation technology, a dynamic survey and reporting system for the National School Climate Center, a custom time-tracking system for a staffing company, content-managed web sites for a number of small to medium businesses, and a complete affiliate web-based business solution for the funeral industry.
Evelyn's favorite past-times include cooking vegetarian and vegan food, practicing yoga, dancing to live music, and playing a mean game of pool.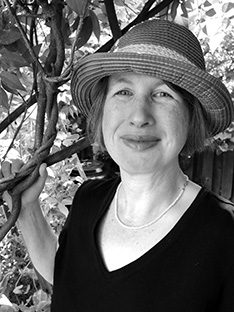 Kate Haas learned the nuts and bolts of copy editing at The New England Journal of Medicine in Boston, where her job involved tracking down every article referenced in the Journal to ensure that each citation was error-free. Kate traces her interest in health matters to those hours wandering the basement stacks of Harvard's Countway Medical Library, poring over obscure medical journals.
Later, as a Peace Corps volunteer working at a school for the blind in Morocco, Kate witnessed directly the impact of access to healthcare. That was also where she learned Arabic, a skill she continues to use in her volunteer work with refugees.
Since 2006, Kate has been a Creative Nonfiction editor at Literary Mama, helping writers craft stories that compel and captivate. Developmental editing is her wheelhouse and intellectual delight.
A freelance writer, Kate's personal essays have been published in The New York Times, The Washington Post, The Boston Globe Magazine, Slate, Salon, and other venues.
Natalie Tasman
Application Developer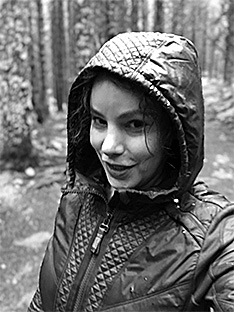 Natalie has always sought to find a way to make a difference by applying technology to important problems. She has been lucky to have had a chance to work in bioinformatics at the Institue for Systems Biology, where she helped to support a software toolkit which helped to enable the burgeoning field of proteomics in the Aebersold Lab. She also helped lead a collaboration between the ISB and Google during the initial phase of Cancer Genomics Cloud project, which was intended to store and process sequence and other biological data in a cloud computing environment. This was the one of the first NIH-approved cloud projects which was certified to store and process human genetic sequence data.
More recently, Natalie was extremely honored to take part in data management for the global HIV/AIDS clinical vaccine research networks as a part of SCHARP at the Fred Hutchinson Cancer Research Center.
Stephanie Hillman
Community Engagement Director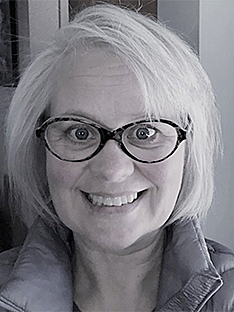 Stephanie grew up on a farm and learned early on how people can work together and positively impact their communities. As an adult, she applied that knowledge to implement systems within healthcare—locally and across the country—to improve services for patients and their families.
She persuaded leaders to listen to stakeholders (e.g. patients, families, physicians, employees, donors) and use that information to enhance the experience of patients, families, and teams. Her marketing expertise spans branding, strategic planning, metrics, and communications. Her team recruited patient and family advisors who influenced operational and strategic decisions. They shared personal narratives to catalyze change and make it better for the next family.
Healthcare improves when people share their stories.
Stephanie is drawn to Kinnected because its heart beats with members' stories, what they have to offer, and what they would like to receive. That interdependence creates meaningful relationships. She is excited to learn within this dynamic environment and witness powerful partnerships crisscrossing the globe!
Stephanie and Paul, her husband who is a nurse, wander amongst the trees, bike with their two children, and revel in nurturing family and friends with delicious food and lively conversation. They go on family adventures to experience other cultures, reduce fear of the unknown, and deeply appreciate how people live and love.
Riah Gonzalez
Outreach Coordinator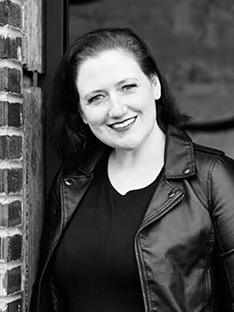 Riah has worked for more than 11 years in healthcare and administration, as well as leadership. Riah has seen first-hand the differences that access to adequate healthcare and related information can make. Fluent in both English and Spanish, Riah has volunteered for years in healthcare clinics so that patients can properly communicate their symptoms and healthcare providers can prescribe appropriate care.
As Outreach Coordinator, Riah hopes to equalize the healthcare playing field by literally taking the tools of Kinnected to the public here, in the US and globally. From interacting with her local community members in transitional housing to track their health; to being part of a global campaign to connect our friends and neighbors across borders through technology.
When not wrangling three girls and running her own business, Riah can be found in her community making people smile whenever possible.